2.5

A flurry of voluntary initiatives
Nestlé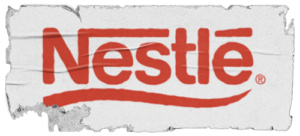 #2

Most plastic polluting company

1.7m tonnes Annual plastic footprint
Nestlé is the second most polluting company in the world when it comes to plastic and the largest company by revenue that we analysed.
The company has a plastic footprint of 1.7 million tonnes annually, and is reported by NGO, Tearfund, to have a plastic pollution footprint of 95,000 tonnes a year across just six countries – enough to cover 15 football pitches every day.
Despite some strong positions, such as a call for mandatory extended producer responsibility (EPR), the company also has a history of failing its voluntary commitments, such as a target by Nestlé Waters NA to double recycling rate of plastic bottles by 2018. Nestlé is also a major producer of highly polluting single-use multi-layered sachets, predominately in low- and- middle-income countries, which are a major source of ocean pollution. Additionally, much of their focus has been on substitution of plastic with other single-use items, such as paper or biodegradable alternative materials – a move which risks scaling up other environmental problems in its wake.
Nestlé is a member/signatory of eight initiatives to address plastic waste that we have analysed and at least eight trade groups that lobby against legislation.
Read the Full case study as a PDF

d